Part 1: Choosing A topic & Question
This tutorial will cover how to explore an area of interest and narrow down to a specific topic you can use for an assignment.
Explore Topic Ideas Broadly
Watch short excerpts from these two videos to learn how to complete preliminarily research.
TIP: Need some suggestions?
Try starting with your textbook or syllabus and look for course relevant topics of interest. 
This website organizes topic ideas by subject: Research Topic Ideas (Website)
 Read an encyclopedia entry about your topic:

Search For an encyclopedia in Primo
You're ready to choose a possible research question to test search.
Remember, your research question should:
fit the requirements of the assignment (assignment length, type of argument, source type requirements)
Be answered with evidence from information sources (not yes/no questions)
The 4 W questions often help with this: What, Where, When, Why
 For example:
Q: What is the negative affect of water pollution on children's development in the United States in the last 10 years?
What: affect on child development
Where: United States
When: 2008-2018
Why/How: Water Pollution
Library searching requires specific formatting. New to searching with keywords? Watch this short video to learn the basics.
Write or type your search plan (See example below)
Questions to Answer with your Search Plan:
Information Authority: Who is an expert on this topic?

 

Possible answers

: government officials, researchers, scholars, professionals (teachers, nurses, ect), first-hand witnesses

Information need: What type of information do I need from experts?

Possible answers:

data, arguments, facts, background information, opinions,

Source type: What format/sources will this information be in?

Possible answers

: books, newspapers, journal articles, magazines, journals, websites

Search Tool: In what search tools will I find these sources?

Possible answers

: Primo, Library database, Google Scholar, Google,

Search Terms/Keywords: what terms or keywords will I use to search?

hint: use academic vocabulary for finding scholarly sources
Sample Search Plan:
Authority: government officials, researchers
Information need: proof that water pollution caused or contributed to poor development in children.
Primary Sources: children's health data, research studies,
Secondary Sources: journal articles, magazine articles, websites(?)
Search tools: Primo,  Academic Search Complete Database,
Keywords: water pollution, water safety, United States, child development, child health, disease, illness,
Where are my sources located?
This tutorial contain information about the basics of searching most of the CUW databases.
General Database Searching
Click on CC icon on the bottom of the video for captions
Subject terms: a standardized word or phrase describing a topic or concept.
Click on CC icon on the bottom of the video for captions
Reading a Database Record
Databases provide metadata, which is information about the item you have found, that can be used to evaluate the item.
Click on CC icon on the bottom of the video for captions
Most CUW library databases are from one of 3 providers/venders: Ebscohost, ProQuest, or Gale. Each provider has a unique interface for searching. You must be logged in to Portal to access databases off-campus.
Inside the database, look for the provider logo near the database title.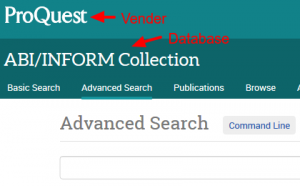 Part 3: Get to Know Primo
Recommended: watch in full-screen by double clicking on video. 
Primo™ Basics
Primo™ includes scholarly, professional,  popular, and news sources.
Primo™ search results favor two things: newer materials & words that match in the title.
Broad search terms = more books and encyclopedias
Specific search terms = more articles
Primo™ contains your library account where you renew and request items.
What is Searched?
What does Primo™ Search?
Most CUW Databases  
CUW Library Catalog
SWITCH Libraries Catalog
Open Access Resources (Repositories & International Materials)
Library Account
To Login:
1. Click the sign in link in the top menu bar.
2. Choose CUW Portal.
3. Enter your CUW Portal Login and Password.
How to Search Primo™
Always sign in to Primo™. Some resources require sign-in to appear in search results, even on campus.
Enter a few keywords in the search box and choose the correct scope from the drop down options.
 Don't use stop words: the, a, an, for, on, 
Use Subject, Publication Date, and Resource Type Filters on the left side to reduce large numbers of search results.
Primo™'s Top Menu
Primo™ vs. Databases
When to Use Primo™
You want to see if CUW Library has access to a particular item
You want a wide variety of source types
Your topic is interdisciplinary (more than one subject area) or you need multiple points-of-view
When to Use a Subject Specific Database
You need to run a very specific search (e.g. a peer-reviewed research article describing evidence based practice, written by a nurse).
You need subject-specific primary sources.